Breaking news from Santa Claus!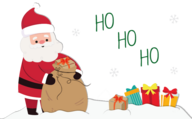 Please note our order deadlines so that your online shop order will probably end up under the Christmas tree in time! Depending on the delivery country, we need to receive your order and payment by
Austria – Wednesday, December 21, 10 am at the latest
Germany – Tuesday, December 20, 10 am at the latest
France, Italy& all other EU countries – Monday, December 19, 10 am at the latest

Send Christmas gifts directly to your loved ones!
We are happy to send your Christmas gifts directly to your loved ones – simply enter a different shipping address during the ordering process.
LET IT GROW, LET IT GROW, LET IT GROW
Details for resellers

We also distribute all the products to resellers and sellers of promotional items at wholesale terms. Thanks to our in-house production at our location in Austria, we can guarantee high flexibility and short delivery times. We would also be happy to develop and produce customized sustainable products according to customer specifications and will gladly add our long-standing "green" business expertise.
Ready to grow

With our unique "Ready to grow" concept, Feel Green products distinguish themselves from almost all other grow kits on the market. The plant containers in our innovative kits are filled with a special nutritional granulate mixture and the seeds are already mixed in with the granules. Just open, water, and within a few days you will see the first green seedlings. No more dirty hands, thanks to our "Ready to grow" approach!