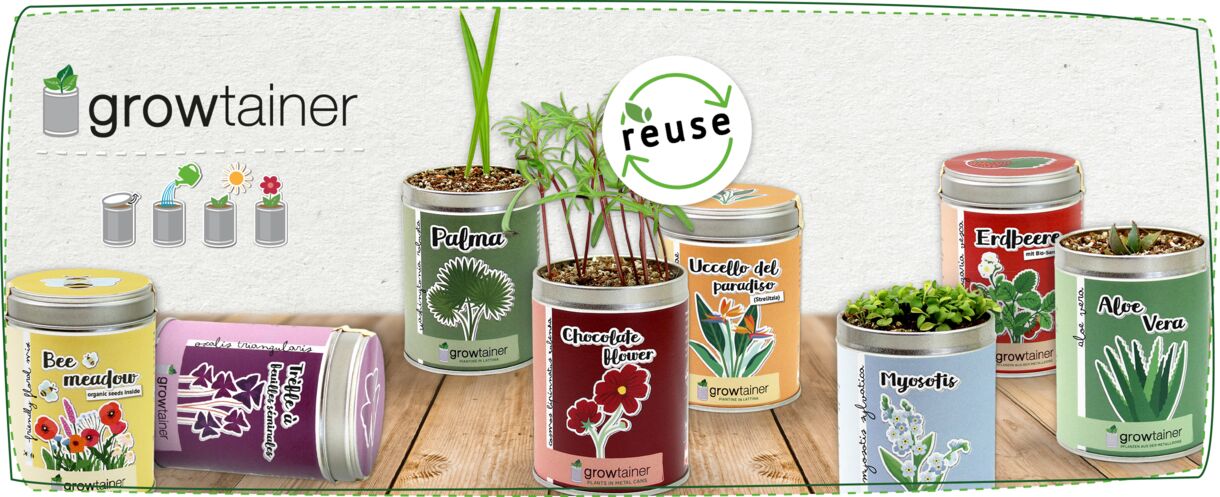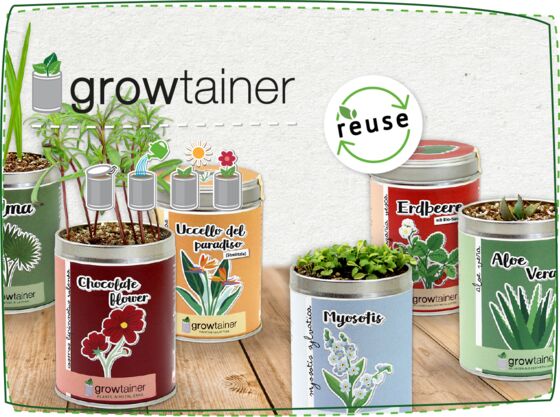 Our small growtainer plant boxes bring green joy! Whether as a small gift or for yourself, herbs, flowers and even exotic plants such as aloe vera or a dwarf banana thrive in the small metal box. The can is filled according to our "Ready-to-grow" concept, which means that the plant seeds are already added to our special mixture of nutrient granules and long-term fertilizer. With regular care, the first seedlings will appear after a few days. The small plants eventually grow into larger plants and can be transplanted into a larger flower pot or outdoors after a few months.
The metal can does not have to be thrown away afterwards!
It can be cleaned in a jiffy and can be used again, for example, as a practical pen holder, as a gift box, as a storage box, etc.
...mehr
This is how you bring your growtainer to life
Carefully open the lid, remove the protective plate and pour some water on the seeds that have already been planted. Place the planter in a bright, warm place and water moderately. The granules should not dry out during the germination phase, and waterlogging should also be avoided! After a few days, the first green plants will begin to germinate and, with good care, will develop into a larger plant. With patience and good care, the plant can be transplanted into a larger flower pot or into your own garden a few months later, so you can enjoy the home-grown plant for a long time.

...mehr
Flowers
Herbs
Exotics
Xmas
Details for reseller
Packaging
unit dimensions: 9 x 6.5 cm; ca. 85 g
minimum quantity: 30 growtainer cans per box
packaging unit: 6 pcs. per plant variety
Material
metal
Bio Top-paper (white)
Available languages
German, English, French & Italian
Shelf life & storage
at least 2 years when stored in a dry place
lucky clover & love plant: max. 3 months (flower bulbs!)
Customized growtainer carrying your own design