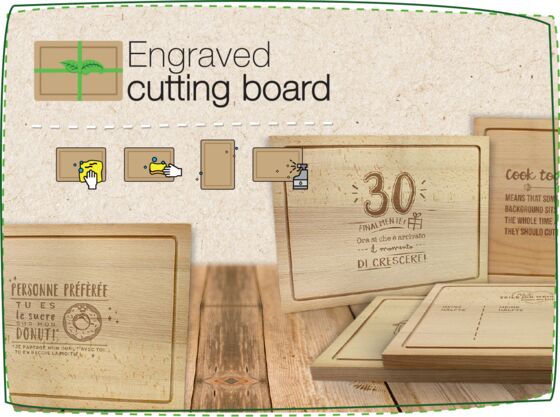 Cutting boards made of beech wood are practical and decorative gift ideas with a wide variety of uses! Our lovingly designed engravings are engraved into the cutting boards using a laser and are clearly recognizable down to the smallest detail. The special feature of the gift lies in its uniqueness, as this is a natural product. Wood grain, engravings, colours, etc. can vary from product to product – but this special feature makes an original gift!
The carving boards are made of solid beech wood and are a good 2 cm thick. This means it can easily be used as a bread cutting board, grill board, serving board, snack board, but also as a decoration in any kitchen. Our carving boards have a practical juice groove. As a result, liquid collects in the groove and the work surface remains clean.
...mehr
How to care for the cutting board
Before the first use, the wooden cutting board should be wiped clean with hot water. In general, the board should only be cleaned by hand, because washing in the dishwasher reduces its lifespan. It's better to grab a sponge yourself, clean it manually, don't leave it in the water and stand it up vertically to dry.
Each cutting board is already pre-treated in linseed oil. It can also be treated with normal cooking oil at any time. Wood is a natural product and could easily change colour with regular use.
...mehr
for birthdays
for love-birds
for your favourite person
Product details
Dimensions
unit dimensions: ca. 40 x 30 x 2 cm
weight: 1,35 kg
Material
care instructions
Hand-wash only! Washing in the dishwasher takes care of the perception of the cutting boards.
Better to grab a sponge, rinse by hand, do not leave it in the water and stand upright to dry!
available languages
German, English, French & Italian
Do you prefer personal?